Yes, soon enough I'll be another one of those people who can say that phrase and not lie. So after a stint of the roller coaster of ticket prices, Taryn managed to find and purchase it all on the web for AUD$600 less than what the travel agent could offer! Bah to those local businesses again!

So now, we are on out way for 9 days into Bali!!

I haven't had a decent holiday... ever... so the thought of this land of plenty is filling me with expectations of relaxation beyond relaxation. Especially because of the conversion rate, everything in Bali is cheap. In this case I am going to gorge on massages. Stuff it, I'll have a masseur follow me around!

So the first leg of the trip will be to Seminyak.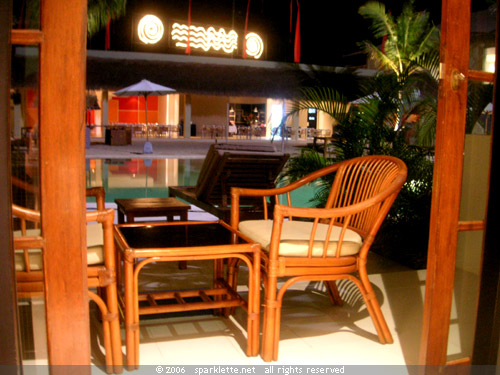 We're staying there at the Contiki resort. Yeah I know.. Contiki. But it seems really good in this case. We got one of the 4 pool terrace king rooms in. the hotel which have "pool sofas" and a private pool access that joins up to the main pool. the view looks like this room here. One of the best things about this place is probably the fact that is has a pool-bar. This is a bar embedded in the pool, you can swim up to it, order your drinks and have them served to you while you're still in the water on some submerged chairs. Awesome.

There's plenty to do there, but I don't think I'm keen to fit into the Contiki mould and follow them around all day. We're simply staying here to explore Seminyak and get a taste for what it has to offer. Hopefully not a "Bali belly", a self explanatory term for food poisoning, which must be common seeing it has it's own catch phrase.


The second part of the trip will be spent in Ubud. This is higher up in the mountains. It's a bit more out of the way and peaceful, without forgoing any of the bonuses (awesome pool, massages and cheap food and drinks). It also has a fresh water pool spa that is embedded tight into the trees. Looking awesome. We are staying in the Raja Room, which has its own terrace balcony and looks comfy enough. This part of the trip is going to have some awesome hikes in the mountains, looking at temples and soaking up the nature in general. Of course planning too much during a holiday is never good, so the biggest plan is not to plan, go as many places as possible, experience everything, and get a good healthy dose of nothingness. Can't wait!